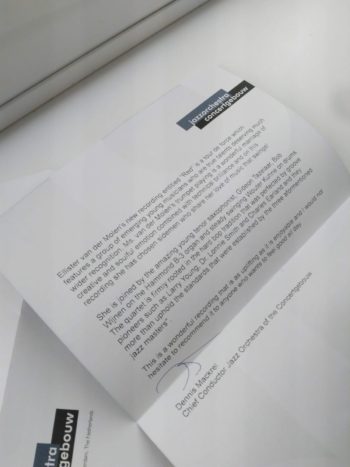 In today's modern pop culture, where music is dominated by good looks, marketing and catchy four chord tunes, it's becoming harder and harder to stand out as a more jazz oriented band. But it's never impossible! There are means to draw the attention of the audience, for instance good reviews or recommendations by those who know and are trusted.
So when you get a recommendation by Dennis Mackrel, chief-conductor of the Jazz Orchestra of the Concertgebouw,, who has worked with the Count Basie Orchestra, the Carla Bley Big Band, the Vanguard Jazz Orchestra, Buck Clayton's Swing Band and the Dizzy Gillespie All Star Big Band, you know it's all good!
In Holland there's a sketch by two comedians, Van Koorten and De Bie, about a fictitious jazz festival, in which a certain Bobby Murphy is the main attraction. He almost made it to the Count Basie Orchestra, so he's by no means a small fish! In their hilarious fantasy, Van Kooten and De Bie are spot on. In the real life of a jazz musician, you climb the ladder and get with the big guns, or become one yourself. Dennis Mackrel is definitely one of them and we are more than happy to hear these words from him:
"Ms. van der Molen's trumpet playing is a wonderful marriage of creative and soulful emotion combined with technical brilliance and on this recording she has chosen sidemen who share her love of music that swings! … This is a wonderful recording that is as uplifting as it is enjoyable and I would not hesitate to recommend it to anyone who wants to feel good all day."
You can read all of it when you click on the picture. We hope you will enjoy it as much as we do!
RED gets Dennis Mackrel's approval